Landtech Design...

let beauty and function pave the way to your home
With two generations of landscapers preceding him,
Brian Van Dyk

was raised in the landscape design environment.
His family roots in this profession were first planted in Holland by his grandfather. After emigrating to Canada in the early 1950's, the family business continued to thrive and grow, with Brian's own father and uncle eventually running the company.
Brian wanted to keep the family-oriented tradition alive while pursuing his own career. In 1991, he graduated from Ryerson University with a degree in Landscape Architectural Technology and began his own business, "Landtech Design Landscape Contractors".
Brian has successfully managed to integrate the skills and knowledge he gleaned from his family history in the landscape design profession with his own unique artistry and vision for today's clientele.
Every client and each individual project are uniquely special. Brian listens intently to his client's needs and helps them work through the process of defining their landscaping dreams. Whether it is a small patio or deck that is needed, or an entire backyard or front entry landscape, Landtech Design uses its artistry to complete a wonderfully unique vision every time.
Once you get to know Brian, you will discover that he is a very hands-on designer who offers a personal touch, a keen, artistic eye and the utmost attention to detail. Brian truly listens to his clients and gives 100% effort on every project. He operates by the philosophy that the very best in landscape design evolves… "Where the Artistry of Man meets the Beauty of Nature".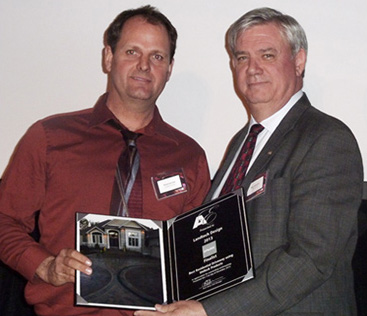 Unilock

"Awards of Excellence"
Unilock presented Brian Van Dyk with their prestigious, annual "Awards of Excellence" in recognition of his outstanding landscaping designs.
As an Award Winning Contractor, Brian is able to offer his clients the confidence and assurance of working with a Landscape Architectural Technologist, recognized and celebrated by both peers and industry leaders.
Most of the landscape designs featured online are award winning designs recognized by Unilock's "Awards of Excellence".